Infundere shows caustics (light reflexes) caused by falling drops in a bowl of water. Infundere was first shown as part of the exhibition  Raumlektüre at the Zwingli Church.
André Werner, "Infundere", 2016, overhead-projector, water, infusion apparatus, dimension variable.
"Et si volo divinam trinitatem apprehendere, scio, quod non pecco mortaliter, quia finitum potest apprehendere infinitum sua gratia et potest apprehendere tantam gratiam, quantam infinitum vult finito infundere sive dare"
Raimundus Lullus (Ramon Llull)
The work refers to the writings of blessed Raimundus Lullus (*~ 1232 in Palma de Mallorca). Raimundus Lullus was a Mallorquin philosopher, logician and Franciscan theologian. According to his ideas, the limited human mind comprehensively can not capture infinite and eternal existence at a higher level of recognition. Recognition and faith are not opposed, but are closely connected as a unit. The activity of reason does not affect the faith but extols it.
Thus it acts like oil in a vessel filled with water; the oil remains on the surface, rising with the increasing level of the water.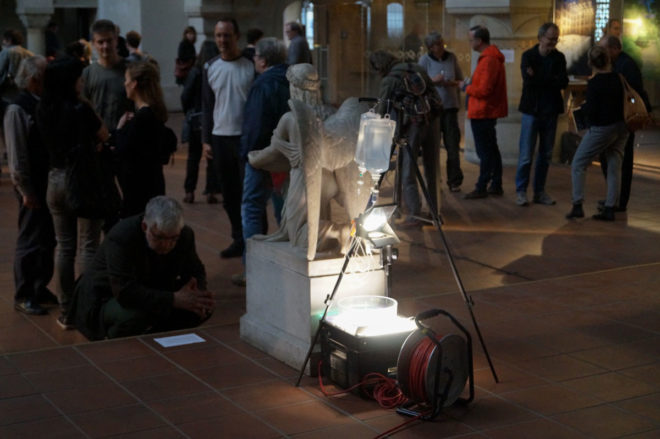 Infundere | part of Raumlektüre
3 Tage Medienkunst in der Zwingli-Kirche
curated by Karin Scheel
Opening Friday, 15.7.16, 6pm
Exhibition 16.and 17.7.16 12 to 9pm

Zwingli-Kirche, Rudolfstraße 14, 10245 Berlin
images:  © André Werner